One of the most substantial recent trends in home remodeling is that the demand for services and resources for our increasingly aging population. As we get older, the need for accessible, safe and comfortable living spaces becomes more important. At the same time, many aging homeowners want to stay in their own homes as they get older, among friends and neighbors, they have lived in all their life.
Aging-in-place remodeling and universal design are two different responses to the need for creating living spaces that are safe and accessible for older and less mobile individuals. A loss of mobility is expected with age, but should you choose to modify your home for aging-in-place, or implement universal design from the start?
The Difference Between Aging-In-Place and Universal Design
Universal Design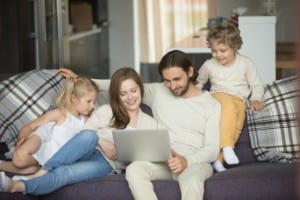 Universal design is the overarching design category that aging in place also fits under. Universal design aims to create residential and commercial spaces that can be used by people of all abilities and all ages. Because all of us may lose mobility and our regular capacity at some point, universal design creates more versatile spaces that can be used over entire lifetimes without alteration. This means that everyone from children, to adults, to the elderly, can use the same space.
Universal design can be ideal for multi-generational families, or homeowners that plan to live in their homes even as they age and become less mobile. Universal design is also ideal for families of any age that have members who are differently-abled or have impaired mobility.
Aging-In-Place
Aging in place remodeling is usually implemented by a remodeling contractor to modify an existing home to fit the needs of elderly occupants who may have decreased mobility and functionality. Aging in place design makes your current home more comfortable, safe and appropriate for the needs of the elderly or less mobile while allowing you to stay in your own home.
If your home was not initially built with universal design in mind, but you want to continue living in your home or house your aging parents or in-laws, aging in place remodels can offer the ideal solution.
Getting Started with Handicap Renovations
Whether you're building a home that can be enjoyed by everyone from the ground up or modifying your existing home with aging in place remodel, your plans will be framed around the principle of universal design. When starting the process, it can be helpful to speak with a knowledgeable home remodel contractor who is experienced with universal design and the unique needs of an aging or differently-abled resident. A skilled home remodel expert can help develop plans and designs for your home that are made to accommodate your mobility, but that still feels like a home, without the sterile institutional feel.
Home Areas to Focus On
When it comes to aging in place remodels and universal design, there are a number of aspects of your home that you can look at to begin planning for accessibility renovations.
Access Points
Doors and hallways can be widened, and support rails can be added to allow wheelchair access, improve safe mobility and prevent falls.
Bathroom Remodel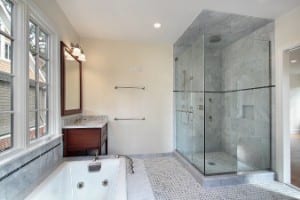 Bathrooms can be an area of hazard for the elderly or disabled. The universal design adds non-slip bathroom surfaces, provides wider access space and support rails, and offers accessible facilities like roll-in showers and tubs, special toilet installation, and single lever or auto sensor faucets.
Kitchen Remodel
Accessible kitchens make cooking easier for those with decreased mobility and provide space and dimensions for wheelchair access. Unique cabinetry can provide easy access storage or workspace from a wheelchair, and larger sinks with a single lever or sensor-activated faucets make washing easy. Labor-saving appliances can also be added to improve the quality of life.
Accessible Bedrooms
Wider doorways, safe flooring, support rails and widened walk-in closets make bedrooms safer and more suitable for independent living.
Outdoor Remodel
Ensuring paths are smooth and non-slip, adding handrails, and building ramps instead of stairs makes a home more accessible and allows everyone to enjoy the outdoors.
Gordon Reese Design Build has culminated over 33 years of experience in sensitively meeting the unique needs of every home and occupant. By combining the principles of universal design for your new home or aging in place remodel, Gordon Reese Design Build can help you get started on the perfect remodel that supports independent living in your own home for years to come.