Residential demolitions are a pretty intimidating concept – more so if it's happening to you. Even homeowners who are used to renovations can feel overwhelmed by the mere thought of destroying a part of the place they call home. The fact that it's necessary or temporary doesn't make it any less unnerving.
If you've got one coming up, don't despair. We're going to break down the ins, outs, and in-betweens of handling home and interior demolitions like a seasoned pro.
Step 1. Choose Your Demolition Method
Believe it or not, not all demolitions involve wrecking balls or giant cranes. There are two main methods to demolishing a building, and the first one is referred to as 'deconstruction' or 'demolition by hand.' As the latter suggests, this type of demolition involves manually stripping and deconstructing the target area piece by piece.
Through the deconstruction, a lot of the original materials are kept intact and can therefore be salvaged (i.e. windows, doors, floor tiles, wall panels, etc.). This method also involves less debris, making it quite eco-friendly. It's highly recommended for interior demolitions and small-scale demolition projects. However, since this method involves additional labor, it can take longer than a mechanical demolition and will definitely cost twice as much.
Mechanical demolitions, on the other hand, are the kind of building-smashing demolitions you see on television. With the help of wrecking balls, hydraulic excavators, and other heavy-duty machinery, a demolition crew simply tears the structure down with the simple objective of destroying everything as quickly and efficiently as possible. The resulting debris is completely unsalvageable.
Mechanical demolitions are best for exterior demolitions and larger projects that require huge sections or whole structures to be cleared away ASAP. It is also the cheapest and fastest solution of the two.
Step 2. Find the Right People for the Job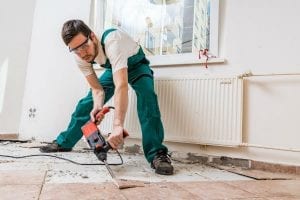 Once you know which areas you need to demolish and what kind of approach you're going to go with, you then need to get in touch with the people best equipped to help you. If the demolition is part of a bigger remodel/reconstruction project that you're handling by yourself, you'll need to find a licensed and insured demolitions contractor to help safely clear the necessary areas.
On the other hand, if you're working with a professional design-build company, have them recommend licensed contractors or partner companies that they work with. If you trust the design-build company, then it follows that you'll trust whomever they recommend.
Doing the latter gives you two advantages: 1) assurance regarding the quality of the demolitions and the work ethic of the contractors, and 2) the potential to negotiate a discount or fee reduction for a package deal.
Learn How to Improve Property Value with Curb Appeal!
Step 3. Secure Your Permit
In most states, demolitions – even residential ones – require permits. This is true regardless of whether it's an exterior demolition or an interior one. The permits themselves can typically be acquired through local Building Departments. If you aren't sure how to secure one, you can always ask your design-build contractor for guidance.
Obtaining these permits basically means you agree to do a number of things before performing the demolition to ensure the safety of all involved parties. For instance, you'll need to turn off all your utilities before allowing the demolition crew to start, otherwise you could damage fuses, wreck electrical wiring, and even cause gas leaks. You should also inform all your neighbors about the upcoming demolition. Give them the exact date and time so that they can properly prepare for it as well.
Once you have your permit, post it on your front door or have it on-hand in case a passerby wants to verify that what you're doing is completely legal.
These three steps might not seem like a lot, but they cover the important parts of preparing for residential demolitions. As a homeowner, understanding the basics – what to do, where to go, who to turn to for help – can help you ensure the entire process goes off without a hitch; smooth, simple, and relatively painless for everyone involved.