For many homeowners, a long, relaxing bath is one of life's greatest pleasures. It's an experience to be savored for those that rarely get the time to enjoy it, and it's a luxury to indulge in for those that don't have immediate access to bathtubs.
Regardless of whichever group you fall under, a bathroom remodel is undeniably the best way to make sure your current bathroom matches your dream bathroom, built for your very own staycation. After all, everyone deserves the chance to pamper themselves—especially in the comfort of their own home.
And on the topic of baths, preparing for such a remodel includes choosing the best bathtub for you. Here are a few tips to make the process easier.
Choose a Style
There are several bathtub styles made to accommodate most any bathroom. What you need to do first is look at how big your bathroom is and then choose a style of bathtub, along with the type of installation that best fits it.
A standard tub, as the name implies, is the most common type. It has a few different options for installation such as; freestanding, alcove, and drop-in. It can also double as a tub-shower combo, which means you don't have to worry too much about not having space for a shower.
On the other hand, a whirlpool tub—which has jets positioned in spots close to where major muscle groups would be found—would need a drop-in or undermount installation to hide the extra plumbing. It would also mean you'd still have to plan where to place your shower stall.
Other bathtub styles include soaking tubs, air tubs, combination tubs, and walk-in tubs. This last is something you'll want to consider if you're planning a bathroom remodel to help with aging-in-place.
How Will You Install It?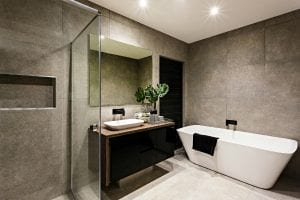 In general, how complicated installing a bathtub is depends on the size and shape of the tub. Drop-in tubs, for example, are the easiest to install because they involve practically dropping the tub into a carved-out space where the required plumbing has already been installed.
Meanwhile, alcove bathtubs are like drop-ins, only they're installed against three walls. Freestanding tubs, as the name implies, aren't installed along any wall, but they usually require extra plumbing.
Where's the Bathroom?
You need to think about where you'll be placing this bathtub of yours. For example, what might look great in your bathroom may be bad news for your floor if you choose a bathtub made of a material that's extremely heavy.
In general, you'll want to choose a bathtub made of a lighter material such as fiberglass or acrylic if the bathroom is on an upper floor, although a bathroom remodel can help reinforce the floor so it can take some extra weight. You can choose a heavier material in your bathroom remodel for a bathroom on the first floor, but some precautions still need to be taken.
It's also a good idea to remember the pros and cons of each bathtub material, too.
Fiberglass, for example, is made of reinforced plastic sheets that are eventually molded into the shape of a bathtub. It's quite durable, but because it's porous and regularly absorbs water, it will warp over time. Acrylic has a similar appearance to fiberglass but isn't porous, so it's more durable.
Other materials used in making bathtubs include ceramic, cultured marble, stone resin, copper, and wood. Whichever material you choose, it helps to talk with the contractor for your bathroom remodel so that you have a rough idea of how the installation will go and what it'll require.