Every home improvement project starts with a plan. The details, décor, colors, designs—all those are fun to pick and implement, but you need a solid foundation to build before you start expanding and exploring.
If you're running "bathroom remodel near me" searches, you probably see a ton of gorgeous before-and-after remodel photos. These can be a source of inspiration, yes, but they can also cause you to rush in your excitement.
Remember; don't build the ceiling without building the support first. A great bathroom remodel starts in the planning phase.
Step 1. Define Your Purpose & Goals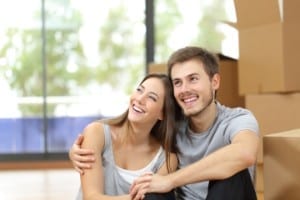 Before you get into the details of your bathroom's layout, consider what you want your new bathroom to look and feel like. Also, consider why you want it to look and feel that way.
For instance; maybe you want a spacious, airy bathroom with lots of open areas and soft light. The reason behind this choice is because all the other bathrooms in your home are quite small, or are half-baths. Since this is the master bath, you want the room to feel big and expansive without seeming empty or hollow.
Knowing details like these will give you an outline—as well as a stable starting point—for your bathroom's new layout.
Step 2. Decide What You Need Most
Now that you know what you want, start working on your needs. The unspoken truth of most bathroom remodels is that despite your best efforts, there will be a couple of things you won't be able to achieve. You need to make smart decisions and choose elements that will prove to be more valuable in the long run.
Say you want a chandelier as the bathroom's main light source, with pendant lights as statement lighting. However, you know your floor-to-ceiling shower enclosure won't allow for that particular design. Or, you want a big vanity area and a huge Jacuzzi tub, but both aren't possible with the current room space.
The bottom line is, prioritizing what is necessary can help you save both money and time throughout the remodel. Moreover, it can also help you make the most practical and long-lived decision.
Step 3. Determine What You Can't Change
Bringing back the example from the previous point: vanity versus Jacuzzi tub. You can only choose one, and right now, most of your family is clamoring for the Jacuzzi tub (because it's something everyone can enjoy). Since space is an issue, you might consider knocking down a wall to extend the bathroom.
Is that a practical solution, or will it do more harm than good?
When planning your bathroom layout, it's important that you know what you can and can't change. This will define not only your overall floor plan but the scope of your remodel as well. Working with a professional home remodeling contractor can find out essential elements in your home that you should not alter—like load-bearing walls, pipelines, electrical lines, foundational cornerstones, and so on.
Step 4. Plan for Storage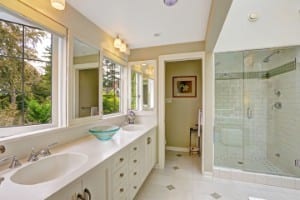 Every room in your home needs to have a storage area for all your goods and essentials. The bathroom is no exception. You're going to need shelves for your bath products, racks for your towels, counter space for your personal hygiene tools, and drawers for everything else.
A great way to plan for your ideal layout is to consider where the storage would go. Would you like them hidden and out of the way, or would you rather they be part of the décor? Do you want to spread the storage options out, or do you want them bundled in one area of the bathroom? Knowing how you want to position the storage will help you decide how to place other elements as well.
Step 5. Collaborate with a Professional Remodeling Firm
You still need a professional to guide your layout plans. A good design-build company will have experts in interior design, and these industry professionals can help you figure out the best possible layout that accommodates your vision.
You need someone with experience and expertise to translate all the desired, negotiable, and non-negotiable elements of your plan to create a feasible layout. They can give you advice and recommendations on how to achieve your desired goal while staying within your financial plan.
The more prepared you are for a bathroom remodel, the more equipped a home remodeling team is to help you. Knowing what you want and how you want the room to flow—even if it's just a rough idea—is already a huge step in the right direction. So when you start looking for viable contractors via a "bathroom remodel near me" search, you have a pretty solid layout idea that they can work with.