Most homeowners love selecting paint swatches for their bathroom remodel. It's like that exciting, reminiscent process of painstakingly choosing crayons when we were younger. Only this time, the stakes are higher, and the options a little more refined.
On the other hand, some people consider picking a color scheme the hardest part of the remodeling process. After all, there's more to creating a palette than just holding up a couple of swatch sticks and deciding which look good together. The sheer number of brands, finishes, and color options out there don't make it easier, either. Even something like "a simple neutral palette" can yield almost a hundred possible combinations.
There's no exact science to it, but there are some best practices that you might find helpful.
Tip #1: Think of the Lighting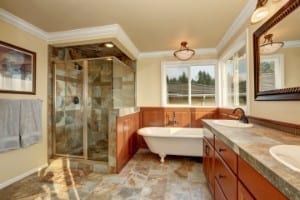 Before you start looking at paint swatches, look at the lighting in your bathroom. Do you have windows—or a window? What's your current lighting setup? Is there one main light for the entire bathroom, or several? What about mood lighting or accent lighting?
The amount of light your bathroom receives will heavily dictate how the colors in it look. If your bathroom is dim most of the day, darker colors and tones can make it look intimidating or cave-like. If it's very, very light and open, you might want to stay away from brights and neons.
We recommend: creams, soft yellows, and pinks, light peaches and apricots for a dim bathroom. For a well-lit bathroom, pair cool colors such as blue, lavender, mint with a soft, solid neutral, like dove grey or charcoal.
Tip #2: Use Nature Palettes
If you aren't sure what colors go together, draw inspiration from nature. An ocean palette would combine maybe seafoam green, soft cerulean, and misty blue. A more earthy combination would be soft sand, light tan, and emerald green. Or you can replicate the clear sky using sky blue, robins-egg blue, and light gray.
We recommend: using an online color palette generator. If you know where you want to pull a palette from but you don't know the specific colors, simply type the word in (i.e., "forest," "sunset," "sky,") and the online palette generator will generate dozens of sample combinations. Some examples; coolors.co, colormind.io, and paletton.com.
Alternatively, you can work with a bathroom remodel designer for a more personalized palette.
Tip #3: Stick to a Three-Color Palette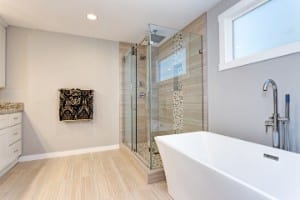 If you're familiar with the rule of thirds, you probably know that it has something to do with photography. There's actually another rule of thirds exclusively for interior design, and that's the principle of the three-color palette. It's an easy way to narrow your choices down (while still giving you some wiggle room to explore possible combinations) and distribute them in a way that complements the palette.
Ideally, you pick one neutral color, one rich color, and one accent color. To know which is which, use a 70/20/10 distribution. The lightest color will cover roughly 70% of the room, this is your neutral or base color. The second-lightest will cover 20%, which is your rich color. And the boldest of the combination will cover 10%, making it your accent. This rule of thirds pretty much assures you that your palette will be neither overwhelming nor understated.
We recommend: looking at pictures of bathrooms or color palettes to get some bathroom remodeling ideas. It can be hard to figure out complementing colors, especially if you don't have the eye for it, so a little online inspiration never hurts.
With so much to consider during a bathroom remodel, it can be easy to feel stressed out. If, at any point during your remodel, you start to feel overwhelmed, don't hesitate to reach out to the professionals you're working with. It's their job to help you figure out the concerns you may be having—whether it's about the color of your bathroom or something else entirely.