An entertaining outdoors area can be a fantastic extension of your living space and the perfect setting for hosting parties and get-togethers as the weather warms up. But is your yard and entertaining outdoor area looking a little run-down after winter? Don't have space or facilities you'd like to have for your ultimate outdoor entertainment setting? Here's what you can do to prepare your outdoor area for entertaining this spring.
Clean Up Your Home Exteriors
When you're entertaining outdoors, it's the exterior of your home that your guests are going to notice. Shabby roof shingles, peeling paint, stained stairs and patios, and damaged windows and doors are going to detract from your home appearance and your relaxing environment. If your exteriors are just dirty or covered with moss or lichen, a pressure clean can give your home a fresh new look in little time. For heavier wear and damage, a fresh coat of paint, roof repairs or window/siding replacement could be needed to bring your home back to its best appearance. Add verbiage to be careful of any insect (bee or spider) nests, bird nests or other nests that may have popped up over winter before jumping into any kind of cleanup… Basically, keep bugs off the invitee list.
Rejuvenate the Yard
Outdoor entertaining settings often overlook the yard, so now's the time to get your garden into shape. Add decorative planter boxes or new seedlings to bring a fresh look to your yard. Consider replacing a dried-up lawn with a drought-friendly landscape. If you want to overhaul your look, call in a landscaper to reinvent your yard.
Add Outdoor Lighting
Outdoor lighting can transform your entertaining outdoor space in a simple, yet effective way. Focused lighting around stairs, walkways and food prep areas helps to improve safety and accessibility, while ambient lighting around seating and outdoor dining areas set the right mood for entertaining.
Build an Outdoor Shelter
Is your outdoor entertainment area uncovered, leaving you and your guests exposed to the hot sun or occasional spring shower? Building an outdoor shelter for your entertainment area is the perfect way to keep your guests comfortable while entertaining outdoors all year round. A bonus is that a shelter can help to keep your outdoor settings clean and dry as well.
Spruce Up Your Patio or Build a New One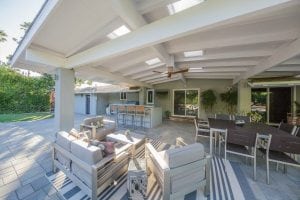 A patio is often the prime location for outdoor entertaining, so you want to ensure it's clean, safe and inviting if your planning to entertain outside this spring. Invest in a pressure clean to remove built-up dirt and lichen, or consider building a new patio if you need an updated or larger space for your outdoor entertaining.
Install a Fire Pit, Pizza Oven, Wet Bar, or Outdoor Kitchen
Want to take your outdoor entertaining to the next level? Adding a fire pit, outdoor pizza oven, kitchen or bar to your entertaining outdoor area ups the ante and can create an attraction for your outdoor entertaining to center around. A great example is a mobile drinks station that would be helpful to transfer refreshments to and from the kitchen.
Invest in An Outdoor Remodel
Want to update so many aspects of your entertaining outdoor space that you're not even sure where to start? A comprehensive outdoor remodel can help you address a range of aspects in your entertaining outdoor area including landscaping, patio design, lighting, and outdoor kitchen, and bar facilities to create a space where you love to spend time and host guests.
Make the most of the space you have by refreshing, rejuvenating, and uplifting your outdoor area for entertaining this spring.