Working with a design build firm is essentially benefiting from a packaged deal specifically tailored to meet all your remodeling needs. Instead of hiring two, three, or even more contractors to handle different aspects of the renovation, you only hire one company and communicate with one point person to ensure a successful remodel.
This, in turn, means you won't have to concern yourself with coordinating with several teams day in and day out.
If you're in the process of vetting a design-build contractor, you need to prepare a list of all the questions you would typically ask a construction company, interior designer and an Architect. As mentioned, they can typically handle the responsibilities of all areas.
As part of the vetting process, you should ask for references and verified samples of the company's previous works to better decide if they're the best contractor for you.
Many people choose the design build process because it's a more efficient way to approach any type of home remodeling project. It also offers a ton of advantages for you and your property. Below are 4 reasons why hiring a design-build remodeling company is a great idea.
1. Remodeling is made simple.
A design-build team comes up with the initial designs. Your salesperson will work a designer and with the other team members responsible for bringing all of their creative insights to life. Thanks to this process of planning all the home's upgrades, homeowners planning a remodel will have far less change orders.
Back in the day, the design-build model was notorious for being very time-consuming and expensive because it didn't just allow for the possibility of a lot of changes—it encouraged it. Now, having a design-build team by your side means fewer changes and more streamlined processes. This allows homeowners to enjoy lower design costs and to understand their remodeling costs before the build starts.
2. Projects are finished faster.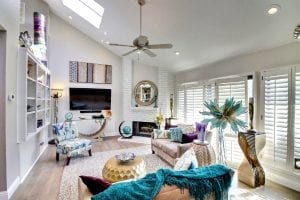 In the past, homeowners had to endure a so-called design-bid-build process before they could even start the remodeling work. They were required to meet with three different people first: the contractor, the interior designer, and the architect.
People who have experienced this, unfortunately, know the hassle of successfully coordinating a plan between all three parties.
By hiring a design-build remodeling firm, you don't have to deal with all the calling, scheduling, rescheduling, running back and forth, and confirming. All necessary disciplines are integrated under a single roof and handled by a single company, saving you so much time.
3. All details are worked out immediately.
Working on a remodeling project alongside a professional and experienced design-build team lets you flush out your every need. They are ready to listen to your objectives and learn everything about the scope of the remodeling project you're planning. As industry experts, they are capable of providing suggestions and recommendations based on your current property needs and personal remodeling preferences.
And as industry experts, they are not just passively listening to your remodeling plans. Even if it may not look it, they also quietly take note of your daily operations, your lifestyle, and the daily habits of the people in your home. They also see creative ideas that other homeowners use which may work for you. This allows them to better learn how you make use of your space daily, consequently allowing them to give you more personalized suggestions.
4. There's only one point of accountability.
Having one point of accountability at the same design build company reduces potentially wasted time, over-budgeting issues, and headaches. Instead of spending valuable time tracking down the source of the issue or the person responsible, the designated point person or main contact will do that for you.
What's more, hiring one design build company to handle your project means that each member of the team has already been trained and is already used to working with the other members. This lessens the risk of in-team conflicts and contributes to an enjoyable and productive remodeling process.