It can be rather difficult to decide on a unified design style for your outdoor remodel, especially since outdoor conditions are impermanent and ever-changing. While some prefer to optimize the use of existing outdoor elements through rustic or suburban designs, others don't mind mixing it up a little.
Enter contemporary design; a clean and crisp style of interior design that most wouldn't associate with outdoor living spaces. Given the difference between the elements of the style and the environment, it can be a bit of a challenge to incorporate the contemporary style into an outdoor remodel.
However, the results are certainly worth the endeavor.
Defining Contemporary Design
People often associate contemporary design with words like "current" or "modern." The word "contemporary" itself means "of the moment." Other synonyms include trendy, up-to-the-minute, and fresh.
Going by its definition, contemporary style is therefore constantly changing and evolving to match whatever is currently trending at "the moment." Right now, contemporary—or modern—designs feature crisp lines, neutral colors, and minimalist elements. Who's to say what the trend will be five, ten years down the road.
This gives us a pretty good starting point for defining contemporary design, but how does one actually implement it?
Contemporary in Our Modern Society
Currently, contemporary designs use subtlety and simplicity to magnify beauty. They embody elegance and sophistication through the use of sleek lines, clean curves, textured surfaces, and large, uninterrupted areas of space. This style shies away from bold, brass, and loud decorations, opting instead for unassuming patterns and true neutrals.
Given all this, it's a good idea to introducing contemporary design elements to your outdoor remodel. You'd be surprised how little changes here and there can totally transform your outdoor living area into a space of subtle class.
Here are five contemporary design elements you ought to include.
1. Layered Lights
Natural light is the best lighting, and your outdoor remodel is sure to have plenty of that. However, for the times when you need to set the mood or light the way, optimize your outdoor setup through the use of layered lighting. This means using a combination of two or more types of lights that complement one another to create a clean, well-lit environment.
Consider using pendants or wall-mounted lights for your ambient (general) lighting, wall-mounted sconces or faerie lights for your accent (detail) lighting, and desk lamps or smaller pendants for your task lighting.
2. Painted Structural Elements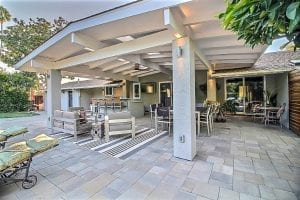 Structural elements like decks, bricks, air ducts, and outdoor pipes play perfectly into the definition of contemporary design. It's not unusual at all to see a contemporary interior with such elements exposed—an outdoor living area is no different.
You can even paint these structural elements to further complement your existing color scheme. For instance, you could paint them soft neutrals—grey, brown, beige, off-white—to better blend in with their surroundings. Alternatively, you could paint them bold, contrasting colors to really make them stand out.
3. Wooden & Geometric Furniture
Wooden furniture always looks great in outdoor living spaces. It helps that it also happens to fulfill the requirements of contemporary design.
Swap out concrete pavers for wooden decks or flat polished stones for a more textured look, or use wooden pillars or wooden screen dividers to separate and define one area from the other. Wooden furniture painted solid, simple colors can look absolutely stunning on open platforms like backyard patios.
You can also opt for geometric furniture and decoration pieces for your outdoor remodel. For instance; pairs of throw pillows, identical wooden columns, square seats, and circular tables, hanging pan planters and small bonsai … all these elements make use of straight lines, clean edges, and distinct patterns that are perfectly contemporary.