After a long day at work, all you want to do is get home and relax. It just so happens that the weather outside is the perfect temperature . It's the kind of night you feel like spending in your backyard—especially since you invested in home remodeling and you've got a great outdoor patio to relax in. So you decide to treat yourself to a delicious dinner while enjoying the tranquility of the outdoors.
Instead of making multiple trips in and out of your kitchen, why not upgrade your patio to a space that's best for relaxing, cooking, and entertaining?
Some of the best outdoor kitchens are as functional as your traditional indoor kitchen. Depending on the space available in your home, you may want to add components typically found in an indoor kitchen, like refrigerators, storage, a sink, etc. Not sure what to put in it? Check out these four typical elements that make for a great outdoor kitchen.
Storage Drawers and Cabinets
Home remodeling is all about utilizing space for optimal functionality. A built-in kitchen typically has space below the counter for storage drawers or cabinets. You have the option of installing a single drawer or multiple drawers that are stacked on top of each other. Similar to the usual indoor kitchen, installing cabinets in your outdoor kitchen lets you organize different kitchen items and food.
Outdoor Refrigerator
Any food eaten outdoors is best paired with a cold beverage. You need an outdoor-rated fridge to keep all your food and drinks cold while within arms' reach. This appliance is definite must-have, as it will ensure you won't need to make multiple trips inside the house to get another round of cold drinks or more food. Also, if you have a large amount of food that you're unable to cook or consume, you can store the leftovers in there.
Grill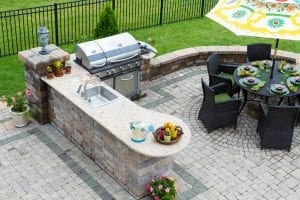 When it comes to home remodeling, it pays to know all your options. That said, there are two different outdoor grill types available on the market: built-in and free-standing. One particular advantage of a free-standing grill is that you can move it around to different parts of your deck easily.
Grills can also be classified according to their fuel type. The usual grill will either be gas or charcoal fueled. There are also grills that are called "smokers" because they are fueled by wood pellets or chips. This gives a unique flavor to any food that's being cooked.
Talk with your contractor to see see what type would be perfect for your lifestyle.
Sink
Before you cook anything on the grill, the most important step is proper food preparation. Getting a built-in sink for your outdoor kitchen simplifies the process of food prep and cleanup. Similar to the outdoor fridge, a sink will minimize the traffic flow going in and out of your indoor kitchen.
Having a sink installed close to the grill lets you wash off any kitchen item or spray off fruits and vegetables before serving them. It's also a quick source of drinking water.
Whether your outdoor kitchen is large or small, you can always make it your own by including components that you love. As far as total home remodeling is concerned, the outdoor kitchen trend is definitely here to stay, so start planning yours now if you still don't have one.